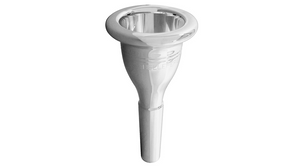 The Conn Helleberg is the most famous tuba mouthpiece in the world, and the Conn Helleberg 7B is a slightly shallower-cupped version of the original. Named after the preeminent tuba player of his time, August Helleberg from the Sousa band, the Helleberg is renowned for its deep, rich and organ-like tone. 
Our brass mouthpieces are silver plated, unless specified otherwise.
Demo Condition:  Similar to Open Box.  Has been cleaned and repackaged.  May have been played briefly, have damaged packaging, or very minor cosmetic damage.