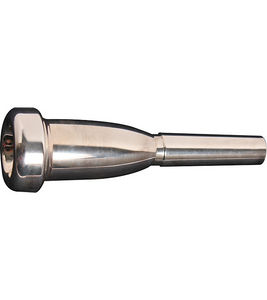 Symphonic and jazz trumpet players have always experimented with ways to create a darker sound by using various mouthpiece add-ons to add weight and mass. The Bach Mega Tone Mouthpiece takes these experiments one step further. To create the Mega Tone, Selmer starts with genuine Vincent Bach mouthpiece designs and more than doubles the outside mass. This darkens the sound and allows you to play at higher dynamic levels without distortion. Mega Tone slots extremely well so pitches center dependably, and a slightly larger throat affords less resistance and greater flexibility. The result is a warmer, more powerful sound that adds a new dimension to concert, pop and jazz playing.
NOTE: The inner contours are precisely the same as the original Bach Mouthpiece, allowing same basic playability. However, additional mass on the outside produces a darker, more powerful sound. The Mega Tone throat is also slightly larger than standard to increase response and flexibility.
  Vincent Bach was a rare combination of artist and engineer. A mechanical genius and acclaimed trumpet soloist, his instruments and mouthpieces are used today in every major studio and orchestra in the world. Bach personally designed the tools and composed the plans that continue to set the high standards for making all Bach products today.
FEATURES AND SPECS
  Model No. / Depth of Cup / Approx. Cup Dia. / Rim Shape / Description          
  4 / Medium / 26.00 mm / Medium wide / Very large cup; principally used by players having healthy, well rounded. strong embouchures.
  5 / Medium / 25.50 mm / Medium wide / For players with good, natural embouchures. Rather large semi-flat. cup. Produces a full, mellow, sonorous tone.
  5GS / Medium / 25.50 mm / Medium wide / Same as No. 5, but with larger "G" (17⁄64") throat semi-flat. and #420 backbore. 6-1⁄2A Medium 25.40 mm Medium wide, Slightly larger than medium with standard size throat and deep well rounded. backbore. Rich, compact tone of large volume.
  6-1⁄2AL / Medium / 25.40 mm / Medium wide / The same rim and cup as No. 61⁄2A, but with "G" (17⁄64") deep well rounded. throat and #420 backbore, for trombonists who strive for a Teutonic tone quality.
  6-1⁄2AM / Medium / 25.40 mm / Medium wide / Symphonic model tenor trombone mouthpiece features deep well rounded. the same cup and rim as No. 6 1⁄2A, but with symphonic throat and backbore.
  7C / Medium / 24.75 mm / Medium wide / For players who prefer a medium-large cup to assure a shallow not too sharp. large volume of tone. Rather shallow cup produces great brilliancy.
  11C / Medium / 24.70 mm / Medium wide / Medium shallow cup produces a brilliant ringing tone of shallow large volume.